Multi-Purpose Canines (MPC's) have emerged as one of our combatants, an operator, and a fellow teammate. MPC's operate throughout the theater of local law enforcement, SWAT, DHS, DoD, DoS, and especially within our Special Operation Forces; SEALs, Army SF, Marines. These canine warriors have a high probability of sustaining trauma and/or a life-threatening injury while in these environments. It is imperative that Dog Handlers, Medics, and First Responders be trained how to perform life-saving medical care in the Pre-Vet / Pre-Hospital setting, to enable them to save their teammates life.
Our 2-day course of instruction will provide everyone who attends the training the necessary knowledge and skill set needed to recognize and treat life-threatening injuries.
2-day course outline:
Introduction
Canine Anatomy and Physiology
Phases of Care
Control of Major Bleeding
Airway
Breathing
Control of Minor Bleeding
Temperature and Canines
Eye Trauma
Burns
Fractures
Head and Spine Trauma
Impaled Objects
MPC Movement
Evacuation of MPC
Bloat
IV Treatment for Heat Injuries
K9 Treatment Card
We have also created a K9 Trauma First Aid Kit (K9TFAK). This can be purchased in our store.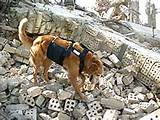 We also offer intermediate and advanced levels of instruction; we will train canine First Responders in advanced airway techniques (surgical airway / intubation), IV fluid therapy, field pain management and antibiotic therapies in field environment.
Our staff of instructors have years of real-world experience, from working with top Special Operations Units in our military, to our civilian counterparts that work with K9's on daily basis.
We offer scenario-based Final Training Exercises, specific to the clients operational environment.